Candy cane committee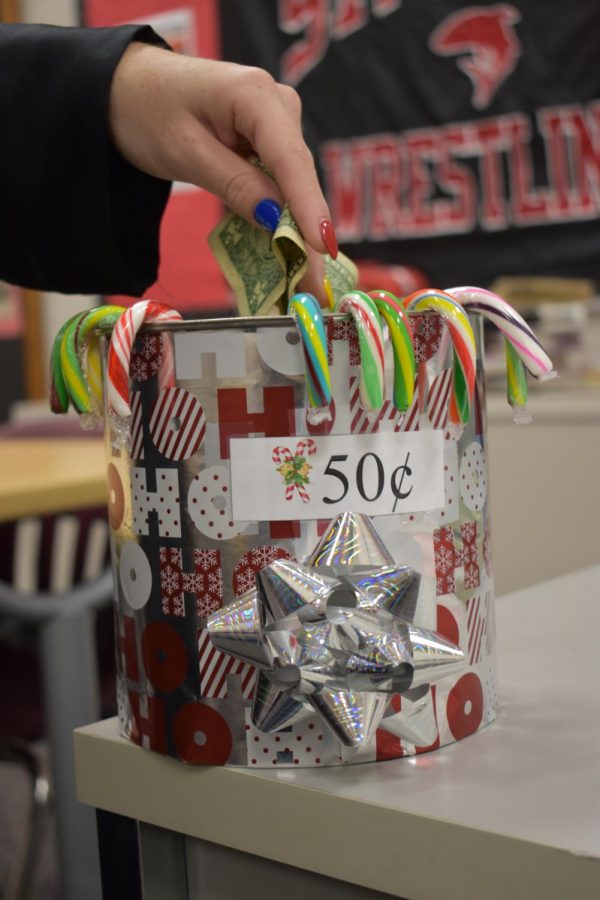 Candy canes, candy canes, candy canes for everyone! In early December, these candy canes suddenly appeared on teachers desks selling for only 50 cents, as they do every year. But why do they continue to appear? "It's a Holiday Tradition!" stated Mrs. Beery, a proud leader of the National Honor Society (NHS). "NHS has done this fundraiser for so long. We have done this for at least ten years," she added. Ten long years of delicious candy canes to munch on during class has passed by; the tradition seems to live on, but how and why did this fundraiser start?
Mrs. Dubridge announced, "We started the candy cane fundraiser for the National Honors Society to go along with Adopt A Family. The candy cane fundraiser is a great way to raise money for our chapter and the candy canes go well with the Christmas season."
Mrs. Beery added, "NHS donates money every year to different causes, and this is the only fundraiser we do that goes into the NHS general fund. This year our chosen cause is, Relay for Life. The majority of our fundraisers will go to this event; however, we do often make smaller donations during the year to different organizations. The candy cane money will be the funds used for these, and also go to help fund prizes when we have competitions between advisories."
In conclusion, not only do the students get a tasty snack, but students get to have the feeling of satisfaction and accomplishment they donate and help out the NHS committee and other families. This fundraiser is a pleasurable and festive way of getting involved and helping out that not all schools get to do.