St. Louis High School's outstanding athletic trainer: Gabby Bass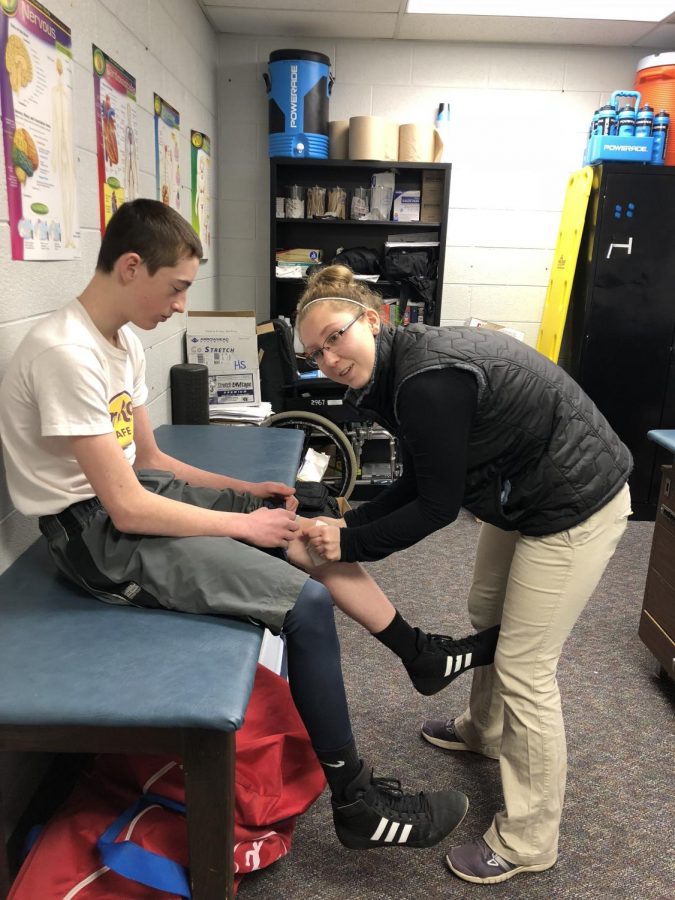 St. Louis High School has been tremendously blessed this year with the addition of an amazing athletic trainer Gabby Bass. Gabby works with athletes who are hurt or suffering from nagging injuries. During the fall season, Gabby worked with runners, football players, and volleyball players, and she was constantly present at games and practices to help athletes. Gabby shared, "So far being at SLHS has been great. For being the first athletic trainer that the school has had, the students, athletes, coaches and community support has been amazing."
Cross country runner Jen Brown shared, "I'm incredibly grateful that the school hired Gabby this year. She is an amazing addition to the school district, and I hope that she comes back. She is very thoughtful and wants the best for all of the athletes. I'm in her office everyday and, even when there are 20 of us, she tries her best to give everyone the treatment they need."
Many athletes can be found in Gabby's office after school to do stretches, get taped, or to get their injuries looked at. Gabby not only works at St. Louis High School, however, as she also works at McLaren Health Care in Mt. Pleasant. She is constantly working at both locations, and she puts so much into her jobs. She is a hard-working person who cares a lot about the people she gives treatment to, and she does an outstanding job working with all the athletes in the high school.
Logan Abell said, "I've only gone to see her once for a heel injury, but she's very thorough with finding the source of the pain, and she knows pretty much everyone who walks through her office and how to treat them."
In the end, coaches, athletes, and school staff are all very appreciative of Gabby and all that she does for this school. The fall sports season was a success with fewer injury problems due to the addition of Gabby constantly helping athletes heal, and coaches for this winter season expect to share the same result.
Zeke Abbott, who suffered from a concussion during football, commented, "Gabby is really great at helping because she's really caring. She understands that it's hard recovering, especially from a concussion because very little things can make it worse, and she understands that. It's great because most people don't."
Gabby shared, "What I enjoy about my job the most is getting the chance to help athletes stay healthy and safe while doing the things they love. Being able to help an injured athlete from the start of an injury to watching them return stronger than before is the best feeling in the world."