St. Louis cross country season ends with a bang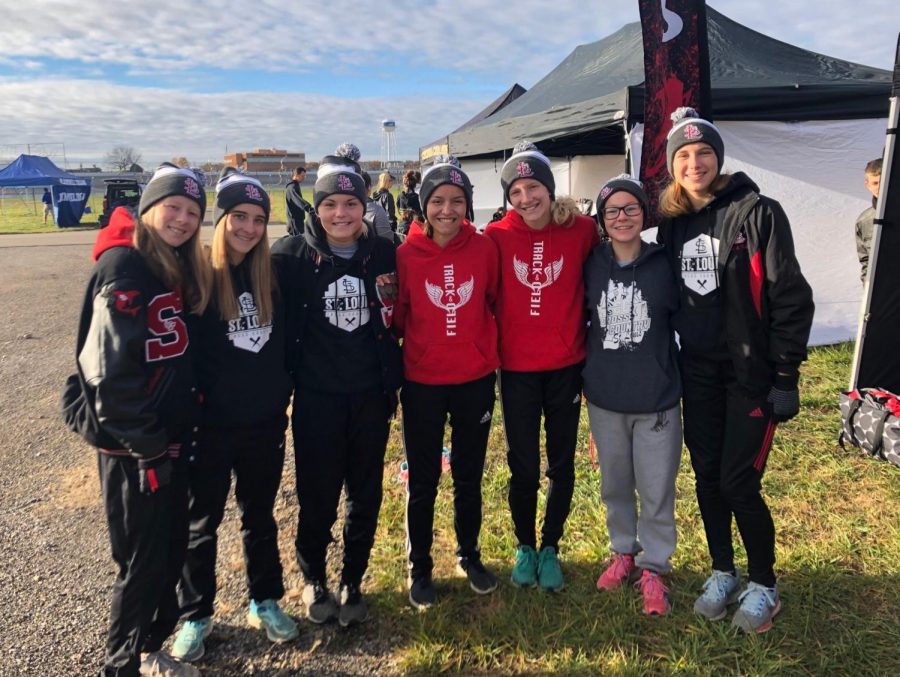 Thats a wrap folks; the cross country season is officially over! The varsity girls raced Saturday, Nov 3, at Brooklyn with a muddy course, cool temperatures, and tough competition.
However, despite the muddy trails and tough competition, the lady sharks put up a fight and finished 10th place overall. The race started off with Libby Munderloh leading the Sharks with a time of 19:16.9 coming in eighth place, Mikenna Borie came in 22nd with an outstanding time of 19:53.0, Brooklyn Filipiak then chipped in with 21:14.3 coming in 106th, Mikaila Borie (21:16.8) was 109th, Sela Delgado was 157th with a time of 22:04.2, Zoe Dickman was (23:06.3) was 200th, and Gracie Shattuck wrapped it up with a time of 24:13.8 to finish 220th.
Proud, but not necessarily shocked at the girls performance, Mr. Puffpaff stated, "The last time we took a team was in 2015. So it was great to get the team back to the state finals. It was an extremely muddy course this year but our athletes did an excellent job not letting it affect them and focused in on the things within their control. The atmosphere at the state meet is always electric, and I was proud of the way the girls controlled their emotions and didn't let the moment become bigger than it was. The team did an excellent job executing especially in the last half the race. We moved up extremely well the last mile which is key in being successful in a state championship meet."

Freshman, Gracie Shattuck added, "When I first lined up at the line, I was nervous. I was a little annoyed because there was a big mud puddle in and around our box. That's not necessarily a good way to start a race. I am very happy that I made it to state as a freshman. When we first started the season I counted all the meets that I had left, and obviously I left out regionals and the state meet. I never thought I would make it, even to regionals as a freshman. I do wish I could go back and run it again. I feel like I could have ran better, even though the conditions of the course didn't help my time. I enjoyed running it, even though most people wouldn't really say they liked the running part. I like the rush of competition."
Overall, the Sharks took 10th place out of 27 teams with a total of 295 points! The Sharks had a great season with an awesome team! STRONG HEARTS, FAST FEET!