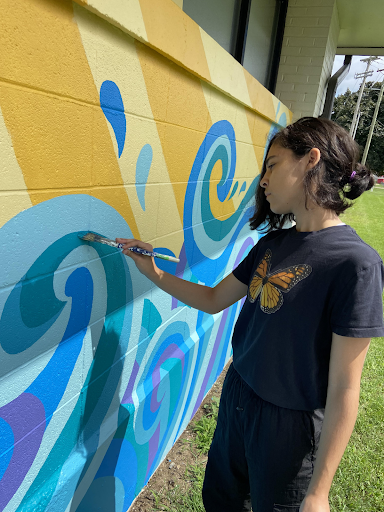 Kaya Munoz, an 11th-grade St. Louis High School student, painted an amazing mural on the wall at the St. Louis City swimming pool wall this past August.
Theresa Jewell chose the design and students to help with the pool's mural, and Munoz was one of those students who was chosen to help. They started in early August and finished close to the end of the month. 
"I enjoyed painting the mural," Munoz said. "I learned many tips and tricks and a lot of general painting." Munoz helped for almost a month on the mural and it's stunning.
Munoz also added a shark fin to represent the St. Louis Sharks. During this seven-day period, Munoz helped with the mural in the heat, and then went to pompom practice afterward. Munoz was the only SLHS student to help with the mural as the other students who were chosen didn't respond to Jewell's message.
"I saw Kaya's banner art hanging downtown," Mrs. Jewell said. "I hand-picked her because of the skill I saw in her work." 
Munoz gave her input on what colors go in each of the waves that were drawn. "Kaya is an amazing person in general and she is a hard worker," said Jewell.
Jewell added, "When I asked her if she was willing to help on the next mural, she said she learned lots and was willing to do it again."