The Sharks crush the Alma Scottie Classic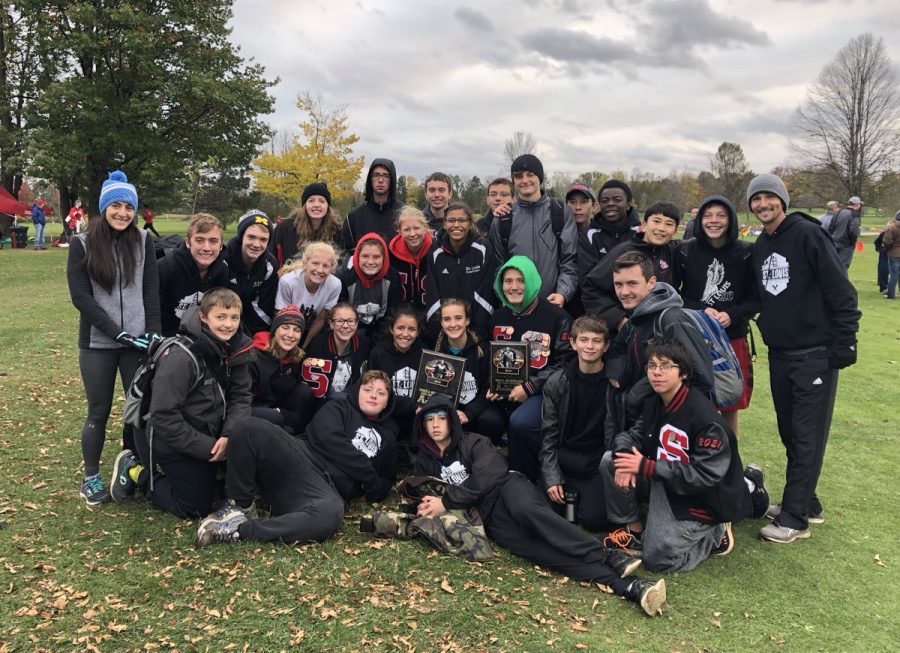 The St. Louis cross country teams competed at the Alma Scottie Classic Friday, Oct. 19, located at the Maple Creek Golf Club in Shepherd. This was the last meet in which the whole team ran together because next up is the regional meet where only varsity competes. This meant a last chance for a lot of runners on the team, and they definitely showed up to finish strong.
The girls' team took first out of the 12 teams competing, with Libby Munderloh taking first place overall and running an incredible time of 18:43.43. Munderloh has now been the overall champion at three meets this year: the first TVC West Jamboree hosted by St. Charles, MSU Spartan Invitational, and now the Alma Scottie Classic! Next up, and coming in second place overall, was Mikenna Borie with a personal record (PR)  time of 19:23.39. Coming up next for the Sharks in ninth place was senior Brook Filipiak, running 20:28.29. Following were Sela Delgado (20:44.19) in 11th place and Mikaila Borie (21:21.29) in 17th place. Running in at sixth place for St. Louis was Zoe Dickman (21:48.27) in 28th place, and then finishing off the top seven was freshman Gracie Shattuck, who ran 23:47.17 to earn a 64th place finish. The team won with a score of 37, beating the runner-up Shepherd by a margin of 13 points.
The Varsity boys finished in sixth place out of the 14 teams, but they were the runner-up in their division. Finishing first for the Sharks was Aaron Bowerman in 14th place with a time of 17:23.54. Next was Joe Erickson in 16th place with a time of 17:27.38 and Austyn Rhines in 32nd place with a time of 18:08.92. Coming in 45th overall was Attah Dryden (18:34.84), and then in 51st place was Austin Aldrich, who came in at 18:41.70. Next was Alex Davis (18:48.67) in 58th place, and then Nate March (19:02.99) in 68th place.
Logan Abell, who PR'd with a time of 25:16.4, shared, "The meet was successful for both middle school and high school. I personally beat my personal record, which I'm extremely happy about, and I couldn't be more proud of my team." The Sharks earned 17 PR's on the day, including Rylee Koutz crushing her previous PR by one minute and twenty seconds to finish at 26:53.1! Senior Nathan Mikek broke the 23:00 mark by running 22:32.4 and beating his PR by 28 seconds, and Alex Davis broke the 19:00 mark by running a speedy 18:48.7 and beating his PR by 29 seconds! Other notable PR's were Alex Lawhorne and Robert Long-Terwilliger, who both broke the 21:00 mark: Lawhorne ran a 20:51.1 and Long-Terwilliger ran a 20:26.1. Great job Sharks!
Casey Gamber stated, "All of us knew that it was the last race that we would be together for, so we all tried as hard as we could to push each other and get the best performances we could." The Varsity team will be competing next at regionals, which will be held at Shepherd, Friday, Oct. 26.