Cross Country achieves greatness once again
The Sharks dominated at the TVC Overall Championships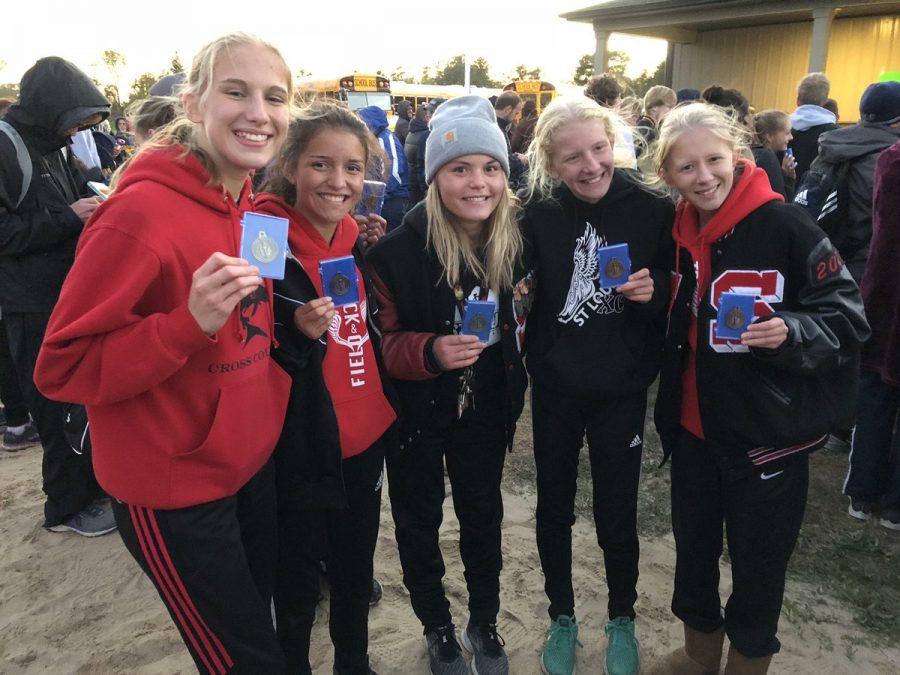 St. Louis Cross Country dominated yet again Tuesday, Oct.16, at the Tri-Valley Conference (TVC) Overall Championships held in Freeland. The TVC Overall Championships combines TVC West, TVC East, and TVC Central. Reyna Rojas shared, "First of all, there was a mansion at the cross meet. Second of all, I think everyone did their best yesterday with the wind and the hill that we had to run up, not once, but twice. Team-wise, the girls did well, as usual, and the boys did well. We may not all have had the times or PR's that we wanted, but team-wise, we did well."
St. Louis won it's TVC but had much tougher competition this time around because of the other divisions. The girls' team, however, performed fantastic, finishing in second place out of the 16 teams, and were only ten points behind the winning team from Shepherd. The girls had a team score of 70, with the top five runners all in the top 25 places, and each of those five received medals. Coming in first for the Sharks was Libby Munderloh (18:59.80), who came in second place overall. Next up was Mikenna Borie (19:44.95) in fifth place, Brooklyn Filipiak (21:01.45) in 14th place, Sela Delgado (21:22.83) in 19th place, Mikaila Borie (21:37.68) in 25th place, Zoe Dickman (22:25.60) in 41st place, and, rounding out the girls' varsity team, Reyna Rojas (25:04.15) in 77th place.
The boys also did very well, coming in fifth place out of the 12 teams. Top runners for the Sharks, and all getting medals, were Aaron Bowerman (17:58.42) in 13th place, Joe Erickson (18:16.17) in 22nd place, and Nate March (18:19.63) in 25th place. Next up, and just a few spots away from earning medals themselves, were Austin Aldrich (18:51.13) and Attah Dryden (18:51.73) in 33rd and 34th place respectively. Alex Davis (19:36.00) finished in 50th place, and then Craig Bebow (20:04.94) finished in 60th place. Both Varsity teams performed very well against the other TVC competition.
The JV girls took 7th place out of 11 teams, with Gracie Shattuck (24:51.91) leading the team in 82nd place. Next up was Carly Daniels (26:31.24) in 118th place, and Mackenzie Allbee (26:32.70) in 119th place. The JV boys took 3rd out of eight teams, with Walker Aldrich (20:59.28) leading the Sharks in 14th place. Next up was Will Erickson (21:19.25) in 19th place, and then Robert Long-Terwilliger (21:44.86) and Alex Lawhorne (21:49.86) in 25th and 26th place respectively.
Joe Nash stated, "It was much colder than most meets, but that's what made it better, and it's a great way to slow down the cross season." Seven St. Louis runners ran their personal best times for 5,000 meters this meet, with Walker Aldrich breaking 21:00 by running 20:59.28. Great job Sharks!
St. Louis has only one more meet until regionals, and that's the Alma Scottie Classic. The Alma Scottie Classic will be held Friday, Oct. 19. This meet will be the last opportunity for runners not going to the regional meet.