SLHS Wrestlers compete in Detroit at state wrestling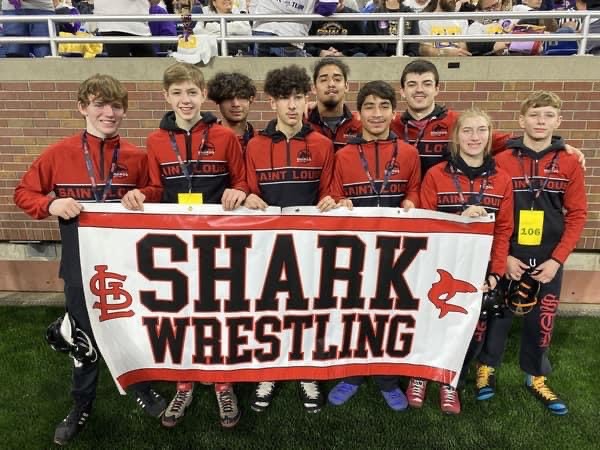 Nine Saint Louis individual wrestlers competed March 3-4, 2023, at Ford Field in Detroit at the Michigan High School Athletic Association Individual Wrestling State Competion. 
The qualifiers for this competition were: senior Justice Onstott, junior Ramon Anguiano, sophomores Martine Wiggins, Colin Kuhn, Genaro Soto, and freshmen Laythan Haworth, Olesya Mullins, Owen Fogel, and Alex Rodriguez. 
Placing in the top eight of their weight class and earning All-State honors were: second place  Rodriguez, third Kuhn, sixth  Fogel, sixth Mullins, seventh Onstott. 
Coach Kevin Kuhn said, "Well, five medalists is something to be proud of and the fact that four are coming back next year is exciting. Yet the state tournament always comes with disappointment as there were others who should have medalled and did not. Also, the ones who did, all had goals of being state champions and that didn't happen. This sport is incredibly humbling and exhausting both physically and mentally. We now have to start preparing for next year. No days off."
Onsott said, " It was very anxiety inducing knowing that weekend I would wrestle my last high school match. I feel like it helped me realize the importance of my situation though it may have hindered my ability to actually perform 100 percent. I'm so grateful for the opportunities I had and for all of the support that we got that weekend and all season." 
The Sharks will continue to work throughout the offseason and prepare for next year and the upcoming sports they participate in.