Cross Country crushes competition at cluttered course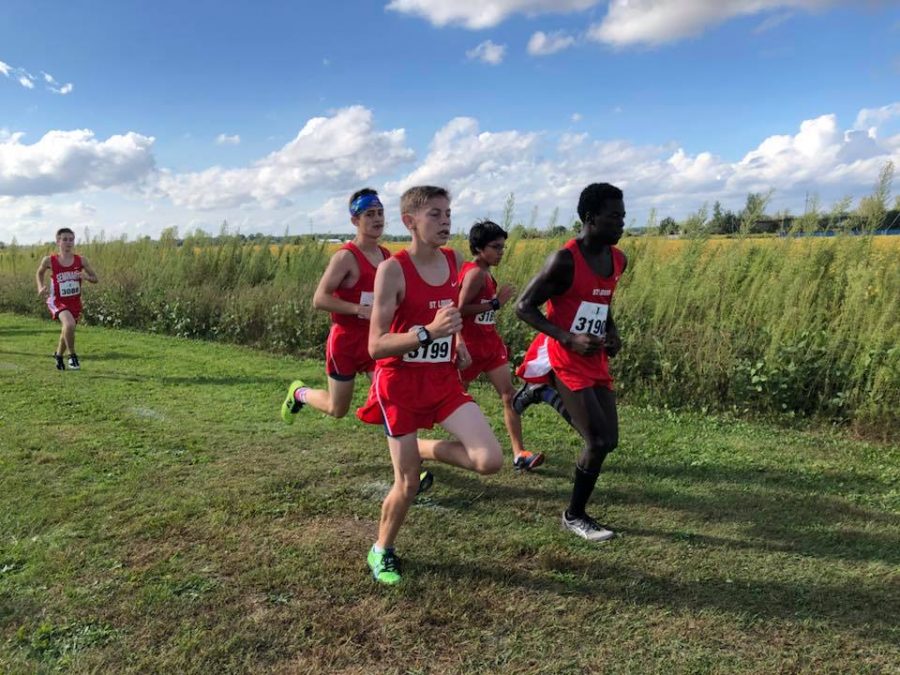 The St. Louis Cross Country team competed Saturday, Sep. 22, at Delta College. This meet is different because it is only two miles rather than the usual 5,000 meters for high schoolers. The varsity boys for the Sharks took 12th out of 22 teams, while the varsity girls took 4th. However, the Sharks took 1st for their division on the girls' side and 3rd on the guys side.
The top runners for the girls were Libby Munderloh, who took 4th place and ran 11:35.90, Mikenna Borie, who took 8th with a 12:00.65 time, Mikaila Borie, who placed 22nd by running 12:44.85, and Brooklyn Filipiak, who took 29th place and ran a great time of 12:52.23. These four ladies all took home medals from this race. The top runner for the guys, and the only one to take home a medal, was Aaron Bowerman, who ran an outstanding time of 10:49.67! Up next, and just only a couple seconds away from medaling themselves were Austyn Rhines (10:59.36) at 43rd place and Joe Erickson (11:00.57) at 47th.
The sharks competed well and had 26 different runners run a PR (personal record) for the short two-mile distance. Logan Abell said, "The Delta meet felt easy because two miles is easier for high school students who run cross country, and that the course itself was flat and relatively short compared to other high school courses. The competition at the meet was stiff and unforgiving because they didn't let up on their ability to run better than you. Some runners were able to PR and boost their positive mentality about running."
Abell is absolutely correct. The competition was stiff at the Delta meet, but the sharks were able to push through this and post some great times, while also bringing home some hardware. The JV boys took 9th out of 14 teams with Craig Bebow running an 11:51.34 for 24th place. The JV girls took 11th out of 13 teams with Gracie Shattuck running a 14:55.00 for 37th place.
Jenny Brown said about the day, "The bees there are not tamed, unlike the St. Louis track bees. I was stung on the finger, but other than that, it was a great course." The Sharks will be running next at Hemlock for their second TVC meet.