Crazy Rich Asians is a box office ground-breaker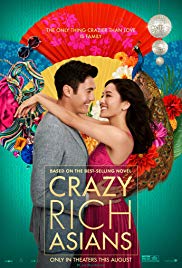 Hang on for a minute...we're trying to find some more stories you might like.
Ever since the trailer dropped and news of its cast broke, Crazy Rich Asians has been breaking records and turning heads everywhere. So why is the film is so unorthodox? The movie features an all-Asian cast, as it should, the first time a film has done so in 25 long years.
Despite what vibes the title may give off, Crazy Rich Asians is considered a romantic comedy. While much of the movie talks about and focuses on wealth, the main topic is the relationship between Rachel Chu and her uber-rich boyfriend Nicholas Young. The Youngs are a renowned family in Singapore and all over Asia, whereas Chu comes from Mainland China and a completely unknown family. This is extremely unacceptable to the Young family and anyone who's of importance in Asia. Nevertheless, Chu and Young are still determined to be together.
This fresh and fun film performed incredibly well at the box office, raking in, thus far, $110 million in North America alone. It is the best-performing romantic comedy in years and is breaking records left and right.
   Crazy Rich Asians is extremely well-liked with those at SLHS who have seen it. According to Allison Taipalus, "I absolutely loved the movie, and I thought the best part was definitely the ending. There was so much to the story, and I loved how everything ended. I definitely recommend watching it."
"Crazy Rich Asians was a phenomenal movie; it really showed how being super rich gets to your head, but it also showed true love. The reason I really enjoyed this movie is simply because it's the first movie in forever that's based on Asians and it's a good love story," commented Desarae Campbell.
This hit film was adapted from the first book in a trilogy, and it can be found at most retailers and book stores.