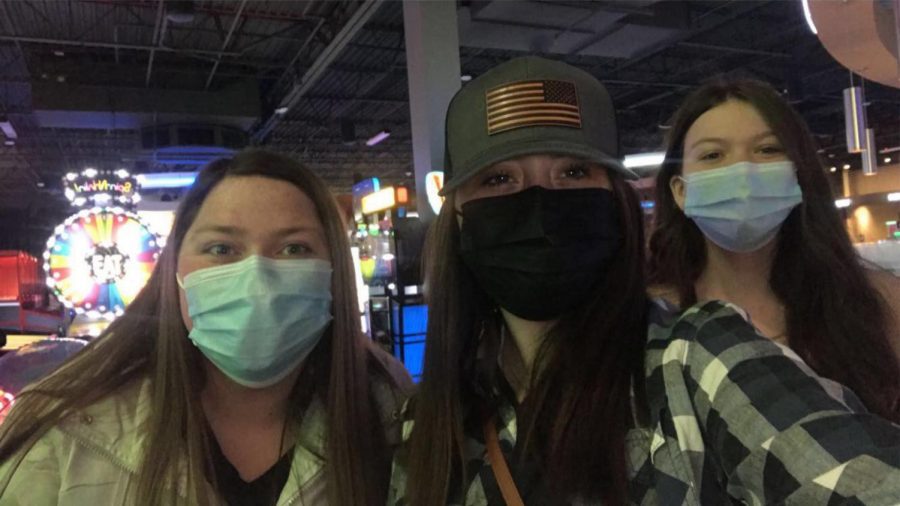 Autumn Bradbury
SLHS seniors participated in the annual senior skip day April 26. However, the class of 2021 participated differently than other former senior classes. 
Due to COVID-19 cases increasing, some seniors weren't able to attend and spent the day at home. Others went to Dave and Busters in Grand Rapids, MI, and spent the entire day playing arcade games and winning prizes. 
Brooke Barrett mentioned, "I had so much fun at Dave and Busters. I've only been there a handful of times, and I forgot how much fun you can have there. On the way there, I had a singing session with two of my friends and it was a blast."
Autumn Bradbury included, "Dave and Busters was actually a lot of fun, even if there were only three of us that went. I had an absolutely wonderful time and I am glad Faith, Brooke, and I went as a group!"
A handful of senior guys went to Hidden Oaks in St. Louis, MI, to play nine holes of golf. 
Logan Koutz shared, "It wasn't the traditional skip day, and we didn't go as a big group. A small group of us decided to hang out and played euchre, pool, table tennis, and then we decided to go golfing in the freezing cold. Overall, it was a lot of fun to just relax and have some fun. At the end of the day, we went and ate as a group to finish the skip day."
Luke Maxwell mentioned, "It was a lot of fun even though I was freezing while we were golfing. On hole three, we all got par so that was a plus for the day. Our senior skip day wasn't the same as other senior classes, but we still had a lot of fun as a small group. It was a lot of fun and I highly enjoyed spending the day relaxing while still having fun."
Even though the senior skip day for the class of 2021 wasn't the traditional skip day where all the seniors go together to do something fun, the seniors still made it memorable and had a lot of fun while hanging out in their small groups.