Wrestling competes against Shepherd and Chippewa Hills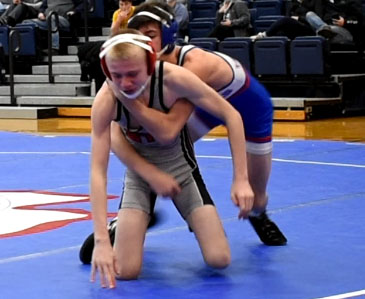 The St. Louis High School's wrestling team defeated Shepherd with a score of 48-31 but lost to the Division three powerhouse Chippewa Hills 59-13, Feb 17, 2021. 
Some highlights include: Justice Onstott pinned a returning state medalist against Chippewa Hills. Luke Maxwell, Robert Long-Terwilliger, and Nate March all had big pins in the win over Shepherd. 
That was the first time the Sharks beat Sheperd in four years! 
Ben March received "Thor's Hammer" for being an absolute fearless beast. He nearly defeated his ranked opponent from Chippewa Hills and just embodied everything asked of him in terms of effort and attitude. The "Thor's Hammer" is a symbol for the Most Valuable Wrestler of the night. 
According to Coach Kevin Kuhn, "We have a long way to go in terms of improvement. We start our league season Saturday and hope to go 3-0."
According to Justice Onstott, a sophomore wrestler, he was very nervous about his big match Wednesday. He stated, "I definitely did not think I was going to beat the kid." He also mentioned, "I am very proud of my team and their effort at the meet because it's all about our attitudes."  He is very proud to be a part of such a supportive team.
According to Joshua Voories, another sophomore, it was a great meet. He said, "The win against Shepherd was eye-opening." He included, "We can definitely beat anyone if we continue to work the way we are." 
The wrestling team is off to a great start and continues to improve in all aspects. Stay tuned for more updates with our winter sports.