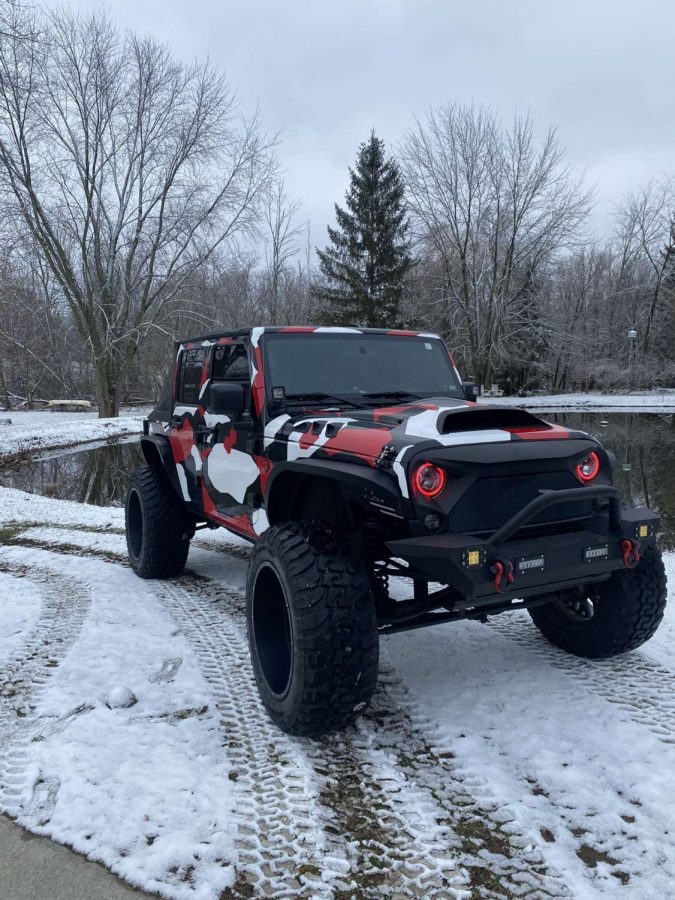 Ever since he was a little boy, he's always wanted to own a Jeep and before this year, it wasn't possible since he couldn't find a Jeep he actually liked on the market. With the pandemic going on, he had more time available to search car websites and find a potential seller with a Jeep he liked. Then, Sept. 12, 2020, Andrew Musselman finally bought a Jeep Wrangler and was able to call himself an official Jeep owner. 
However, Musselman's Jeep is not like any other. He bought this vehicle from someone in Dayton, Ohio, who happened to put many special customizations on it when he owned it. This Jeep is lifted to the max, has a high-tech touch screen radio with a stereo system in the back, custom made wheels and interior, and many other features to go along with it. Even though Musselman may have bought it with all of these custom features, he still wanted to be able to add his own custom features to his Jeep. So he bought a new hood and wanted it to match the outside of his Jeep. Therefore, he ended up buying a wrap online to match his overall exterior. Once the wrap and the hood arrived in the mail, his dad and him were able to successfully apply the new strips of wrap and the hood all in one day. 
Musselman mentioned, "I knew that from day one, I was going to put a new hood on it. So when I came across this hood, I fell in love with it, and I knew I could imagine it on my Jeep. When Adam and I finished the project, I was admired for how well it fit in with the style and I liked it way better than the original hood." 
There has only been a limited number of people who have ridden in this vehicle since Musselman got it in September. In fact, his best friend Logan Koutz was one of the few people to be able to ride in his Jeep. 
Koutz commented, "Andrew's Jeep is the car we all want but none of us can have. He worked very hard to be able to get his vehicle, and I know how much he loves it. His Jeep is the best car I have ever seen a high schooler own."
Musselman has worked at his dad's business throughout the summer and has done multiple jobs along the side to save money for his dream car. He wanted to be able to buy his vehicle without having his parents throw in any money. Most teenagers have their vehicles bought by their parents, but Musselman wanted to be able to pay for it all by himself. 
He's been looking for a Jeep constantly since he got his license in October of 2018. Musselman wanted to own a vehicle that would represent who he is as a person and he thinks that the Jeep he has now demonstrates it pretty well. 
Ever since he got this Jeep, it's been one of his top priorities. He always has to keep it clean, the tires have to be in good condition, and the outside has to look presentable considering the outside is his favorite part. Overall, Musselman's new vehicle is one of the newest additions to the SLHS parking lot and it definitely shows character when it comes to his one of a kind Jeep.