Sharks volleyball stings Yellowjackets to regain the flag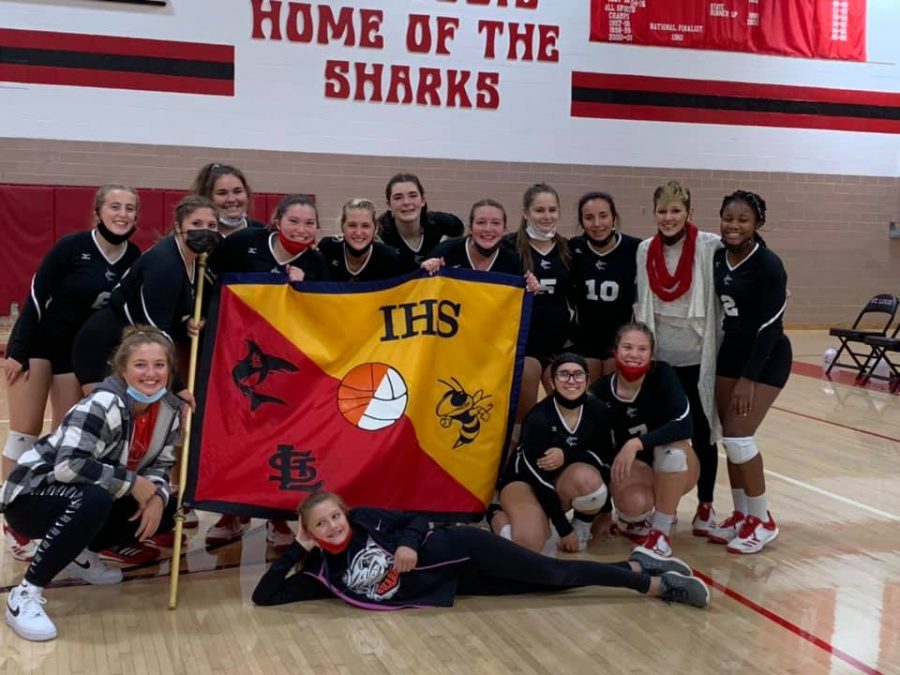 The St. Louis volleyball team defeated Ithaca Sept. 30 at home. After only one year of Ithaca having the flag, the Sharks regained it. Ithaca was the only team present at the meet. The scores were as follows: Set 1 was 25-14, set 2 was 12-25, set 3 was 25-23, and set 4 was 25-15.
Korah Honig, a junior on the varsity team said, "I'm so happy that we got the flag back. The last time St. Louis had the flag was my freshman year. It definitely raises the spirits of our students to see the flag hanging up in the gym." Along with Honig, many of the other girls were very excited and pleased they took the flag back. Honig also added, "We played together as a team really well. It was so great having a win that everyone contributed too." Honig was pleased with her team and she said, "I think we could've made less serving eros but other than that, I think we did really well." Honig also mentioned they need to work more on communication and teamwork going forward for future games. Honig had two aces, eight kills, and nine digs. 
Alexys Rodriguez, a sophomore varsity volleyball player at SLHS stated, "I am really glad we won the flag back. We played really well and we stepped up our game." Rodriguez had three aces, one assist, eight kills, and nine digs. Rodriguez also added, "I plan on working on my set and setting my hitter up for more opportunities to hit the ball."