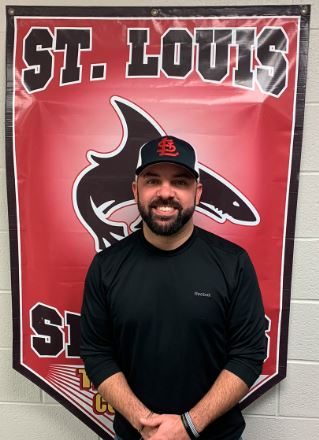 Courtesy Photo
The Saint Louis Shark's athletic family has welcomed a new face to the Shark Tank, and his name is Toby Megregian. He is the new varsity baseball head coach for SLHS and has replaced former coach Jason Luneack. 
Megregian previously coached at Saginaw Heritage High School where he coached junior varsity baseball for 15 years under Hall of Fame Coach Bob Andrezejewski. Andrezejewski is Megregian's grandfather and Megregian's dad was also a coach, so he was destined to become a coach to continue the family tradition. 
Megregian commented, "When I got my first taste of coaching baseball at a young age in 2004-2005, I knew I was hooked. The relationships developed through competitive athletics are long-lasting and special."
Megregian's number one reason he wanted to join the Shark family is the community. He mentioned that there were a number of different baseball jobs this past off-season, but he only applied to St. Louis because this was a community he wanted to be a part of.
Megregian has goals for the upcoming 2020 season. He commented, "The coaching staff's goals are to create an environment where the players look forward to the next practice, game, or team event. I want my players to be involved in an environment where they don't want the season to end and can't wait for the next one to start."
The varsity boys baseball team has been practicing for the upcoming season since January. The head coach, Toby Megregian, said, "In the month of January, we had seven days of training. That number should increase in February. The disappointing part is there are guys who we hope to contribute this spring who haven't made themselves available or choose to not participate. That being said, we have a great core of guys who have dedicated themselves to making the team better, even if that means coming to hitting sessions directly from basketball or wrestling practice. The coaches and fellow players really respect that dedication."
Logan Koutz commented, "I am super excited for the upcoming baseball season. I can't wait until spring when I can start playing baseball again. By working with Coach Toby so far, he has shown us a lot of new tactics, and I can't wait to see what he does with the season."