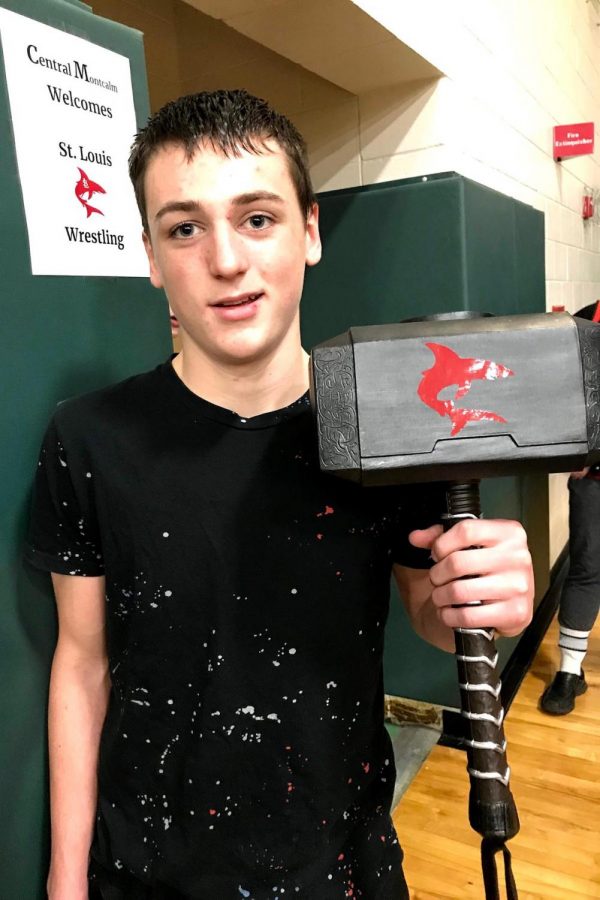 Mr. Kuhn
The St. Louis wrestling team went 2-0 at their first quad of the season Dec. 11, against Central Montcalm and Saranac. 
The team began by defeating Central Montcalm 51-30. The Sharks later faced Saranac and overpowered their team by defeating them 78-0. 
Everyone on the team won at least one match, but the two match winners of the night were: Ean Bradley, Luke Maxwell, Robert Long-Terwilliger, Alex Newton, Lochlan O'Boyle, Gavin Giles, Andrew Shattuck, and Justice Onsott.  
Kevin Kuhn, the wrestling coach, stated, "I feel like our younger wrestlers are definitely much better than they wrestled. Nerves may have been a factor. Luckily, our captains all had pins. It was nice to see Ean Bradley start off with a two-pin night. He's starting to turn the corner."
Kuhn added, "At this point, we have to focus on not giving up bonus points or pins in the matches that we lose.  This will allow us to become a solid dual team."
Lochlan O'Boyle brought home the hammer that night, which symbolizes how he "hammered" his opponents and led the team to victory. 
Senior Gavin Giles, a two match winner of the night, stated, "I wasn't worried about winning or losing because I just wanted to enjoy it because I'll never get to start off another season again."