Disrespectful or justified: "Okay Boomer"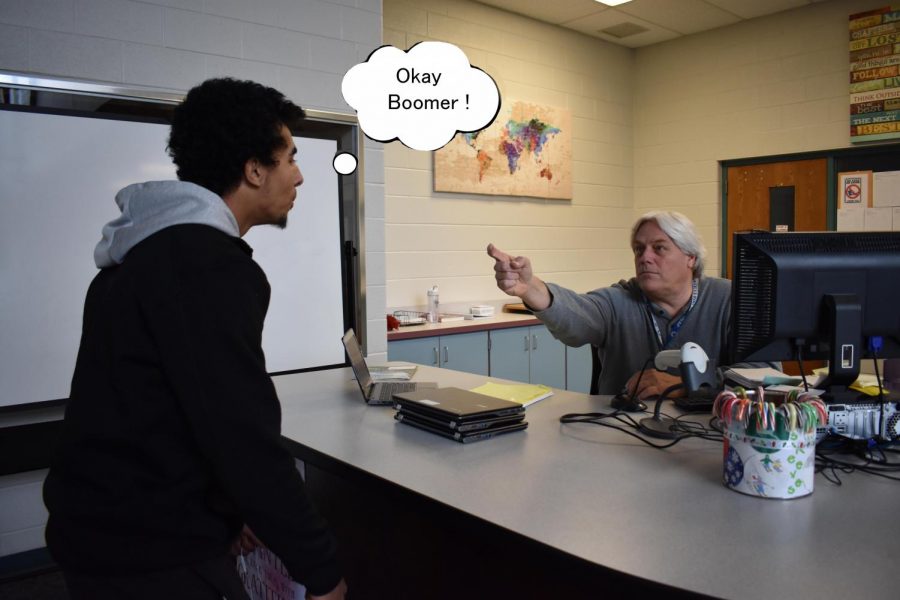 "Okay Boomer," is a catchphrase and internet meme that has gained popularity among younger audiences throughout 2019. It's used to stereotypically dismiss or mock attitudes referred to the generation of baby boomers. Some may think it's disrespectful, while others may disagree.
Mr. Caszatt, a member of Gen X, said, "I think that most people don't even know the origins of it, and they just use it as they please. Personally, I don't care for the phrase because it doesn't affect me."
According to an article published by the New York Times, "Okay Boomer" was popularized as a response to an anonymous older man's video in which he stated, "Millennials and Generation Z have Peter Pan syndrome: they never want to grow up." The video triggered the term "Okay Boomer" as a dismissal of the values of past generations that so profoundly influenced government, culture, and the climate. The first recorded instance of the phrase "Okay boomer" appeared in a Reddit comment January 29, 2009, 10 years before popular usage.
The expression "Okay Boomer" is a slur response used to dismiss or ridicule the supposed narrow-minded, outdated, negative, judgmental, or condescending attitudes of older people, particularly baby boomers. The concept was used as a response to perceived indifference to technological change, rejection of climate change, minority marginalization, or backlash to the beliefs of younger generations. From the beginning of November 2019, videos tagged with #OkBoomer on TikTok had been viewed more than 44.6 million times.
Cole Acker claims he is, "an honorary Black Eyed Peas member" and stated, "The phrase 'Okay Boomer' is a great phrase to symbolize how boomers think they are the greatest generation, but in reality, they have destroyed our planet and political system." 
In early November 2019, New Zealand MP Chlöe Swarbrick, while giving a speech supporting a climate change proposal, promptly responded with "Okay Boomer" after an older member of parliament answered back in disbelief to her claim. According to an article by Steve Annear, "Okay Boomer" is a song written and produced by Johnathan Williams, a 20-year-old college student, and has posted on Twitter in July 2019. The song features lyrics where he repeatedly yells in response, "Okay Boomer." Peter Kuli, 19, then uploaded a remix of the SoundCloud song on TikTok, sparking the trend even further, serving as an anthem.