The Sharks stand out at the Spartan Invite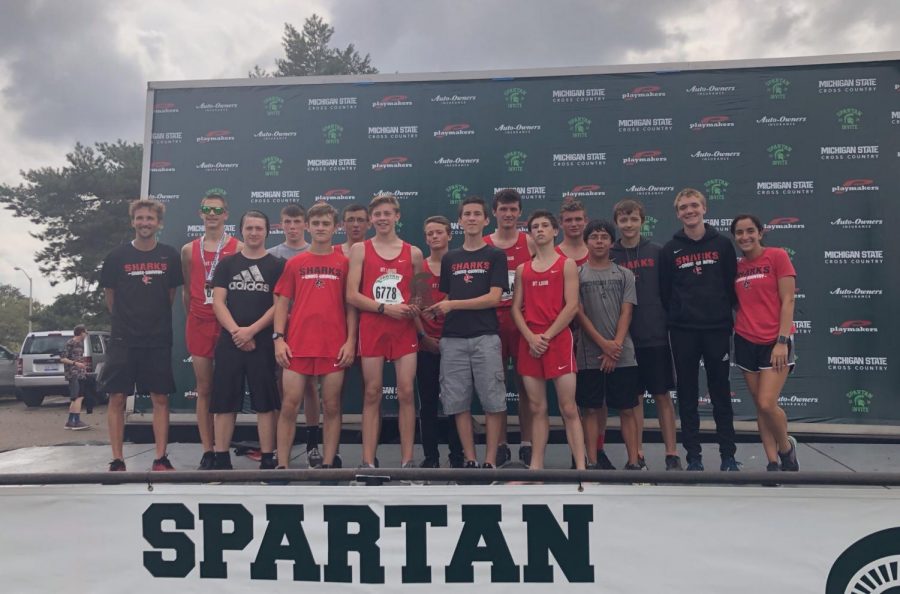 St. Louis cross country competed Friday, Sept. 13, at the Michigan State University Spartan Invite in Lansing. The Sharks conquered numerous other teams in this huge meet with teams from across the state. 
Reyna Rojas shared, "The weather was no bueno, but our teams raced well."
The boys' team raced extremely well in the warm, muggy weather. They placed third out of 35 teams in the White Division race and earned a trophy! Medalists for the guys included Aaron Bowerman (17:59.8) in 17th place and Nate March (18:05.2) in 19th place. Next up for the boys were Joe Erickson (18:57.4) in 41st place, Austin Aldrich (19:16.5), Thomas Zacharko (19:43.8) in 64th place, Dylan Marr (20:07.0) in 87th place, Alex Lawhorne (20:12.8) in 95th place, Robert Long-Terwilliger (21:16.5) in 138th place, Craig Bebow (21:58.1) in 168th place, and James McDonald (22:03.7) in 174th place.
Rojas also stated, "The boys did great! Congrats to them for placing third!"
Furthermore, Alex Lawhorne said, "It was really hot, and it was really hard to run, but we persevered and came through with a third place trophy!"
The girls' team also performed incredibly, placing fourth out of 33 teams! Libby Munderloh (20:02.6) and Mikaila Borie (21:59.6) both received medals, placing second and 26th respectively. Next up were Zoe Dickman (22:43.9) in 51st place, Payton Kuhn (22:50.7) in 58th place, Jenna Abell (22:58.1) in 64th place, Brooke Erskin (24:13.9) in 107th place, Avery Ellison (24:18.6) in 109th place, Larissa Delong (25:39.0) in 145th place, Laney Pestrue (25:46.3) in 150th place, and Reyna Rojas (25:49.5) in 155th place.
March shared, "It was hot and humid, but the team stayed mentally tough and focused; because of that, we [the guys] were able to walk away with the third place trophy and two medalists."
The Sharks will race again Saturday, Sept. 21, at the Al Kayner Delta two-mile race.