Cross country competes at Bath Invite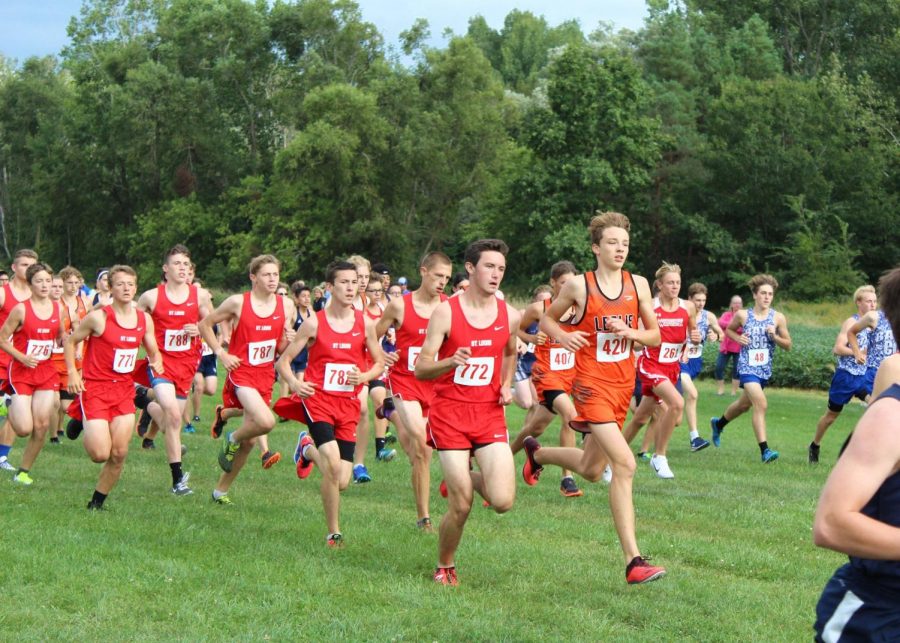 St. Louis cross country competed in the Bret Clements Bath Invitational Invite Tuesday, Sep. 7 in Bath. Despite being placed in division two, the Sharks pushed through the course and finished strong. 
The boys' team took fourth out of 13 teams with a score of 120. Medalists for the guys included sophomore Aaron Bowerman (17:16.52) in 15th place, sophomore Nate March (17:22.65) in 18th place, junior Joe Erickson (17:30.11) in 22nd place, and senior Austin Aldrich (17:46.44) in 30th place. Congratulations to Aaron Bowerman for being awarded the "SLHS XC top 25 since 1995" taking on the 24th spot with his 17:16.52 performance at the Bath Invitational!
The girls' team performed exceptionally as they took seventh place out of 15 teams with a score of 135. Lady Sharks that earned medals were sophomore Libby Munderloh (19:38.57) in second place, junior Mikaila Borie (20:59.81) in 20th place, and senior Zoe Dickman (21:12.72) in 24th place.
Mikenna Borie had more of an outsider's perspective and said,"I thought the team was very focused and excited to race, and I think they all performed well and really pushed through the course." 
Reyna Rojas commented, "I think we were all quite positive and we all raced very well. Both teams raced hard and did the best they could on those awful and deadly hills."