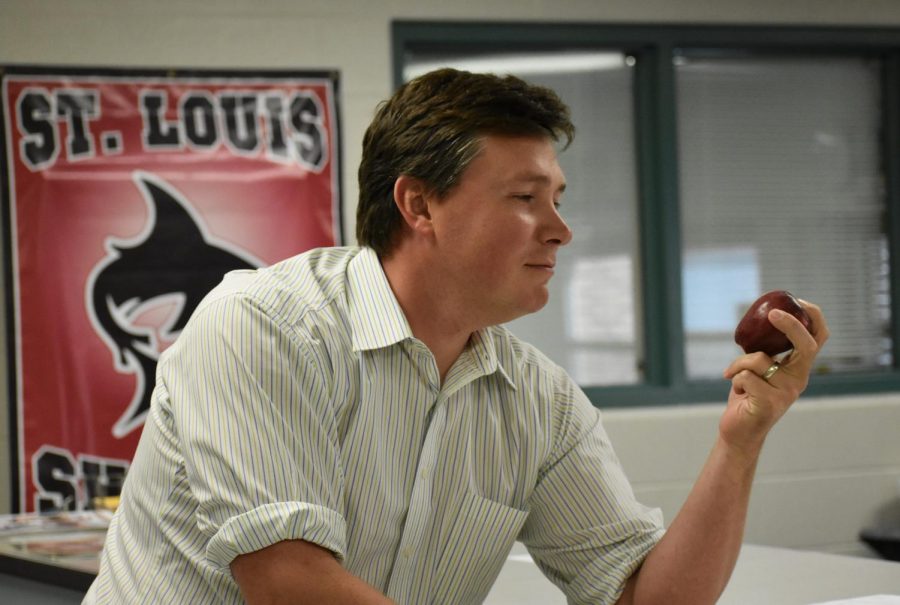 Keegan Honig
With a new school year comes a new principal for St.Louis HighSchool–Eric Huff. Mr. Huff went to highschool at Alma and graduated in 2001. After finishing high school, he went to Albion college and graduated in 2005. He returned years later to Alma to become an athletic director before coming to St.Louis.
Mr.Huff was pleased with his new students on his first day at St. Louis High School and stated, "I was really expecting more people to bribe me with food, but that didn't happen, unfortunately.  Kidding. I am not really sure what I expected, but I can say I was very happy with how students behaved on the first day of school."
Outside of school, Mr.Huff has many hobbies to pass the time such as cooking on his grill and working on his yard. Mr.Huff and his wife, Amanda Huff, have three kids who he loves spending time with, Olivia is nine years old, Liam is five years old, and Harper was born two months ago this summer. He also added that he played baseball and football in high school and continued to play football at college.
A junior at St.Louis highschool, Ethan Wilson said, "I heard a lot of good things from Alma students and how upset they were finding out that he was leaving their district. I wasn't really worried about him being a bad principal from all the good words I've heard from others." 
Mr.Huff plans on connecting with all the students at St. Louis High School by "showing an interest in things kids are interested in. It always helps to make connections." He also added that he plans on making visits to students' extracurricular lunch activities.