St. Louis' dominant wrestling program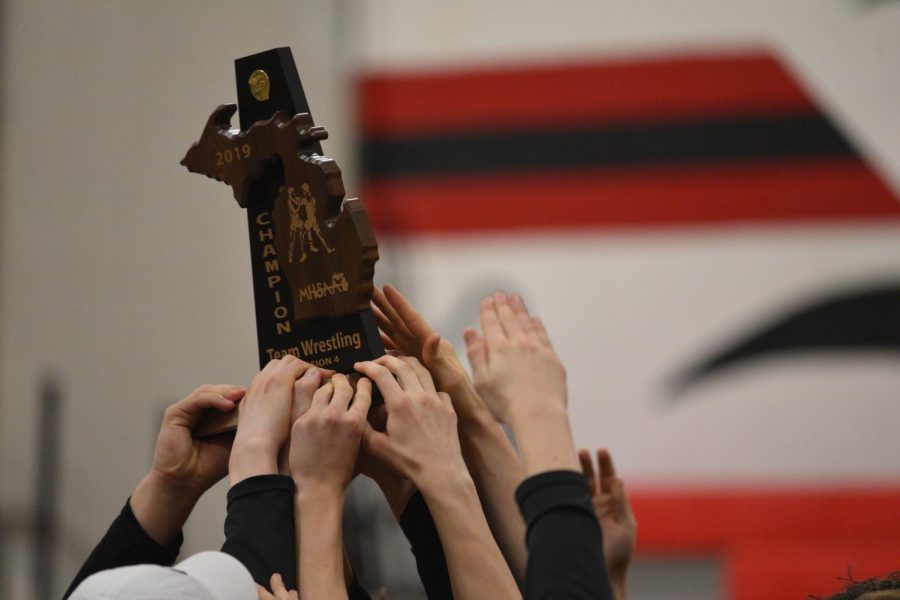 St. Louis Wrestling has completed another winning season going 19-5 and winning its fourth straight District championship and seventh straight conference title!  The team this year was dominant despite being a fairly young team, and the next few years look very promising for the program. Three wrestlers, Isaac Howd, Alex Newton, and Ryan Downs, made their way to the state championships this year, and they've continued the tradition of SLHS sending wrestlers to the season final.
St. Louis wrestling, currently coached by Kevin Kuhn, has cemented itself as one of the most dominant programs in the area. The Sharks have produced three state champions in Rob Tennant (1979), Konnor Holton (2017), and Jayce Kuehnlein (2018), as well as seven state runner-ups. After 48 years, the program has an impressive all-time record of 733-350-6, and it hasn't had a losing season in 12 years! Additionally, the program has been District champs 18 times and has placed as a team at state three times, ending as runner-up in 1995. To sum up, St. Louis has had a tremendous amount of success in the sport.
Sophomore Luke Maxwell shared, "Our team was very young this year, but we still had good successes. I can't wait to see what is to come in the future." 
The future of the program does look bright according to Coach Kuhn as well. He commented, "We have a strong middle school group and some really tough fifth graders coming up. Combine that with the 10 plus freshmen we had this season and it really makes for a bright future."
Kuhn believes that committed and quality coaching is a primary reason for success. He stated, "I think the Shark wrestling program has had success because it is one of only a few programs that have had consistency with coaching.  Pat McLaughlin has coached the middle school for 35 plus years, and Bob Threloff coached here for 30 plus years, and I have been here for 12 consecutive seasons.  I have also had a great assistant coach, Jon Reeves for six seasons in a row. For a program to be steady, it requires coaching consistency."
Robert Threloff was the head coach for St. Louis for 36 years (from 1970 to 2006), and he led the program to a 476-262-6 record during his time with St. Louis. He was named 'Regional Coach of the Year' fives times, and he coached 93 State qualifiers and 38 State placers, with one State Champion in Rob Tenant. Threloff also earned 11 MHSAA District Championships during his time as coach. To top it all off, he was inducted into the Michigan Wrestling Hall of Fame. Kuhn is continuing that consistency and success as a coach for the program, and it's obvious that the coaching has been a major factor in St. Louis' achievements.
Overall, wrestling at St. Louis High School is an intense and dominant program that has seen continuous success due to high expectations, determination, and consistent, quality coaching. Coach Kuhn loves coaching at SLHS, and he has succeeded in continuing a historically top-tier program in the state of Michigan. He shared, "The best part of coaching here is that my son is part of the program, and he has been able to witness some really good role models the last few seasons.  I also enjoy the fact that our wrestlers know the expectations are always high. To top it off, Coach Reeves is a great friend of mine, and we truly have a great coaching style that really meshes well together."