JV basketball takes on MLS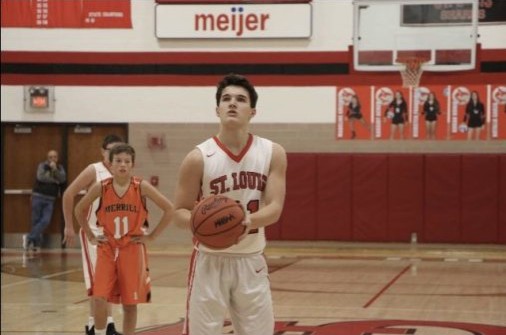 Jv basketball competed at home Monday, Dec. 17, against the Cardinals of Michigan Lutheran Seminary (MLS). The girls from St. Louis played a great game to beat the Cardinals 43-37. The score remained close throughout the entire game, but the girls pulled ahead in the fourth quarter to win.
Spectator Allison Onstott stated, "They played like they were a team. Mikaila [Borie] was an absolute beast! They did very well." Jenny Brown shared, "We started off strong, but we lost our composure during the second half. It was awesome to see everyone on the court contributing and giving their all. It was an incredible feeling when you have the support of your team on and off the court." Jv girls will be back in action on Friday, Dec. 21 at Coleman High School.
Jv boys had less luck against their opponents from Michigan Lutheran Seminary. The cardinals started the game on a tough 14-2 run, and, while the Sharks had some good looks from the floor, they just couldn't get the ball in the hoop. Logan Koutz then scored a three-pointer to get the team going. Iggy Jackson hit a three assisted by Koutz, and then Blake Siefka and Sam Bebow each scored two-point jumpers.
It was a very low-scoring performance by both teams, however, and the score by halftime was only 13-21, with MLS up. The Sharks went on another scoring drought to start the third quarter while MLS scored ten straight points with zero from the home team. The Sharks only scored three points the entire third quarter, but they bounced back in the fourth. James McDonald drove to the basket and scored to start the scoring for St. Louis, and then Wilson, Koutz, and Bebow all hit jumpers. Though the Sharks pushed hard the fourth quarter to come back, it was not enough as MLS ended up winning 39-29.
Blake Siefka shared, "It was probably our worst shooting performance of the year so far." It was not the team's best game, but they can take the game and learn from it.
Logan Koutz said, "Sure we came out strong, and it was a competitive game, but in the end, we just didn't do the little things like boxing out, making our free throws, and committing too many turnovers. Overall, it was a huge increase from our first game, and hopefully we will get even better for the next game."
Bebow led the Sharks in scoring with nine points, then Logan Koutz with five, and Andrew Taipalus and Iggy Jackson each with four.