Foreign Exchange Students enjoy first snowfall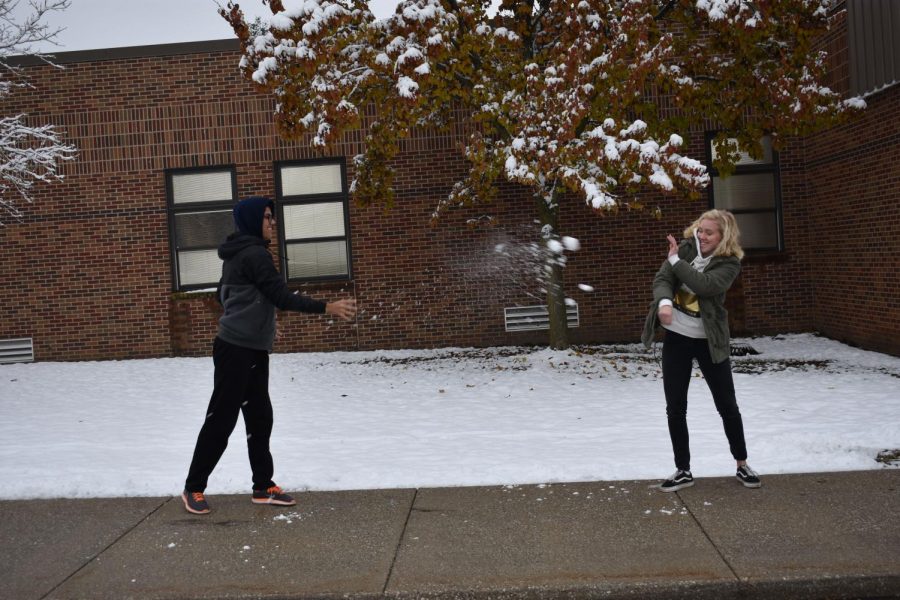 Winter is finally here with the arrival of the first snowfall in St. Louis! Sharks are very used to the amount of snow during the winter along with the freezing cold temperatures, but foreign exchange students are not always so accustomed.
For some foreign exchange students, their stay provides the first time they've ever seen snow in person. Guilherme Silva, a native of Brazil, is an example of one of these students. He shared, "I'm loving the snow. It's a totally different feeling. I feel the snow is awesome. We don't have snow in Brazil, so my first experience with snow was here in St. Louis."
Other foreign exchange students, like Freja Sonderup from Denmark, are more familiar with snow. She said, "I absolutely love the snow! We do have snow in my country, but it's nothing compared to this. The snow I get at home is only a thin layer and it melts after 30 minutes."
One hard factor that foreign exchange students have to get used to in Michigan is the cold winter temperatures. Sonderup stated, "I'm not really as big of a fan of the cold as I am of the snow, but it doesn't bother me that much. It doesn't go below 30 degrees in my country, and I thought that was cold, but I realize now that it's nothing compared to the temperatures here." Winter temperatures in St. Louis average around 20 degrees, with lows of around 14 degrees and highs of approximately 35 degrees, so it's a big difference from places like Brazil.
When asked what they're excited about for the winter season here in the U.S., both Gui and Freja said they were excited to go ice skating. Gui also said, "I'm excited…to make my first snowman and to take a lot of pictures of the snow in different places."
The students are excited to spend the Christmas holiday season here in the U.S. as well. However, traditions differ in many countries during this time of the year. Freja shared, "The only big difference is that we open our presents on the 24th as well as dancing around the Christmas tree, singing Christmas carols."
On the subject of the different traditions for the holiday season, Gui commented, "I think it's not so different because I noticed that we do the same things, like all the family being together, having a big meal, and the Christmas tree. But here I can feel that the people really enjoy the holiday. They live this holiday, and I'm excited to live this together with my U.S. family and to sing a lot of Christmas songs."
Overall, the foreign exchange students are very excited about being here in the U.S. for the winter, and they loved seeing the first snow of the year.