Girls' Cross Country crushes regional competition to qualify for state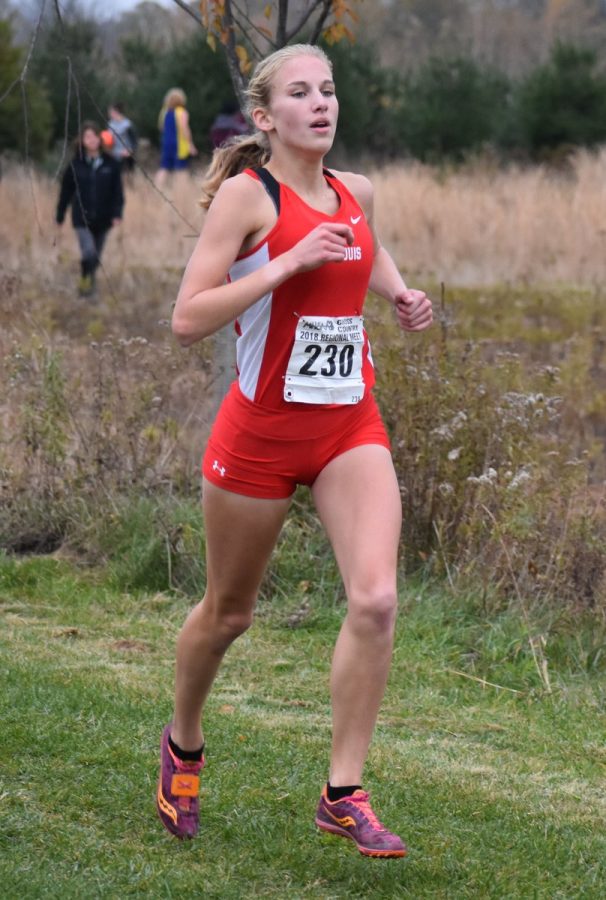 The Sharks dominated once again at regionals Friday, Oct. 26, in Shepherd, and the girls are now headed to the state championships! The team overcame the freezing temperatures to qualify at the meet. By finishing third out of the 12 teams with a score of 79, the Sharks defeated the fourth place team Reese by 30 points to seal a spot at the state meet.
Leading the Sharks in third place overall was Libby Munderloh, who ran an outstanding 18:56.60. Finishing in fourth place was Mikenna Borie, who ran in at 19:24.70. Mikaila Borie had an amazing race, finishing in 14th overall to secure an individual spot at state alongside Libby and Mikenna, and she ran a 32 second Personal Record (PR) time of 20:32.70. Next up for the Sharks was Sela Delgado in 25th place boasting a time of 21:14.30. Following were Zoe Dickman (21.49.50) in 33rd place and Brooklyn Filipiak (23:01.20) in 52nd place. Next, Gracie Shattuck finished in 58th place with an impressive PR time of 23:21.90. The girls' team has been very successful all season, taking home trophies at several meets along the way.
The boys' team also did very well, finishing in 6th place out of 12 teams against the very tough regional competition. Aaron Bowerman, who ran a great time of 17:30.60, was first for the Sharks in 21st place overall. This means, as a freshman, he missed qualifying for the state meet by only a few places, which is incredible. Next was Nate March in 29th place, who ran an outstanding PR of 17:50.00 to step up to the challenge at regionals. Following were Joe Erickson (17:56.40) in 33rd place and Austyn Rhines (18:16.19) in 42nd place. Next was Attah Dryden (18:22.50) in 48th place, and then Austin Aldrich (19:13.30) and Alex Davis (19:14.30) in 59th and 60th place respectively.
St. Louis Coach Jay Puffpaff shared, "We had a solid day on Friday. It wasn't perfect, but the team competed hard and stuck together through all the ups and downs that a championship meet brings with it. On the girls' side, we had some people really step up and take care of business as they grabbed that difficult qualifying position. The girls worked extremely hard to get this team back to the state meet, and it was a great accomplishment to get it done in the difficult region that we are in. On the guys' side, we knew we were the underdogs going in and we needed to take calculated risks within the race to try and make some things happen. I was really proud of the way our guys went for it and put themselves in those positions needed, leaving everything they had out on the course. We are extremely young and this was a great learning opportunity for all of our athletes as we continue to build something special. The future is very bright and we can't wait to get one last opportunity on Saturday with the girls' team."
Shepherd also hosted an open 5k "PROM" race, and several St. Louis runners ran great times during their last chance of the season to race. Alex Lawhorne stated, "The PROM Race was one of those races where it either went really well for you, or it didn't. It was definitely the coldest race I had ever ran, and your performance really depended on how well you prepared for it."
Obviously the Sharks prepared well since Senior Brian Conn broke the 24:00 mark by running 23:58.6 for a big PR and a great end to his season. Also ending his season on a high note, Matt Haag broke the 23:00 mark by running 22:25.6 to run a 37 second PR. Overall, eight St. Louis runners ran PRs this meet, including Nate March (17:50.00) crushing his previous record by 22 seconds, and Attah Dryden (18:22.50) killed it by boasting a 12 second PR.
The team did an outstanding job this season, winning the TVC Championships on both sides and taking home many trophies. The guys' season is over, but the girls will be running at the state meet Saturday, Nov. 3 at Michigan International Speedway.
Gracie Shattuck shared, "I was really excited that I got to to go to regional as a freshman. I was really nervous at first, but when I started running I was fine. I think the whole team, and everyone who ran the PROM and open race, did really well. I am really looking forward to going to the state meet."