Volleyball defeats Pinconning to become TVC West Champions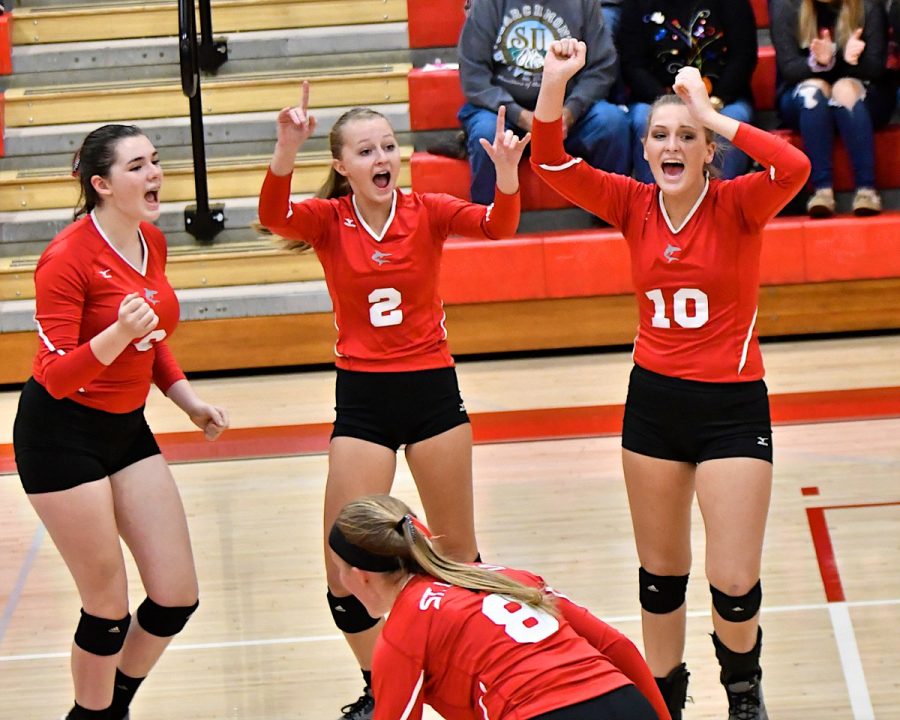 St. Louis Varsity Volleyball dominated Pinconning Wednesday, Oct. 24, at home. It was the team's last regular season matchup, and it was also senior night for the Sharks, so it was an emotional night. However, the team had a lot of energy and played very well together to defeat the Spartans in three sets.
Senior Tara Goodell said, "I was sick so it wasn't my ideal last game, but it was still really fun to play my last league match at home with the crowd that we had. It was great to end my season that way."
The Sharks dominated the first set 25-13, which started off with Rylyn Hrabal serving two aces in a row, and the momentum never stopped from there. The second set was a closer one, but St. Louis pulled through to win 25-21. They then won the third set 25-14 to blow out Pinconning and send them home with the loss. The team dominated the Spartans quickly due to outstanding hitting and incredible serving.
This win caused the Sharks to clench the TVC West title outright by going 7-0 in conference play. The Sharks also finished with a 22-19-3 record overall on the season. Megan Greenup dominated on senior night by achieving 26 assists, 10 digs, and four aces. Rylyn Hrabal was also outstanding with 10 kills, five aces, four assists, and one block, while Aubrey Sherwood added 12 digs, seven kills, and four assists. Allyssa Roberson had a great night with 13 digs, six kills, four aces and two assists, and Korah Honig helped with nine kills and two digs.
This was a great way for the players to end the season, and the team is now pumped up and ready for districts. Korah Honig said, "It had high energy, especially considering the fact that it was senior night, and it was the game that would seal our league championship. We were very on that night and it was a good game to send the seniors off with."